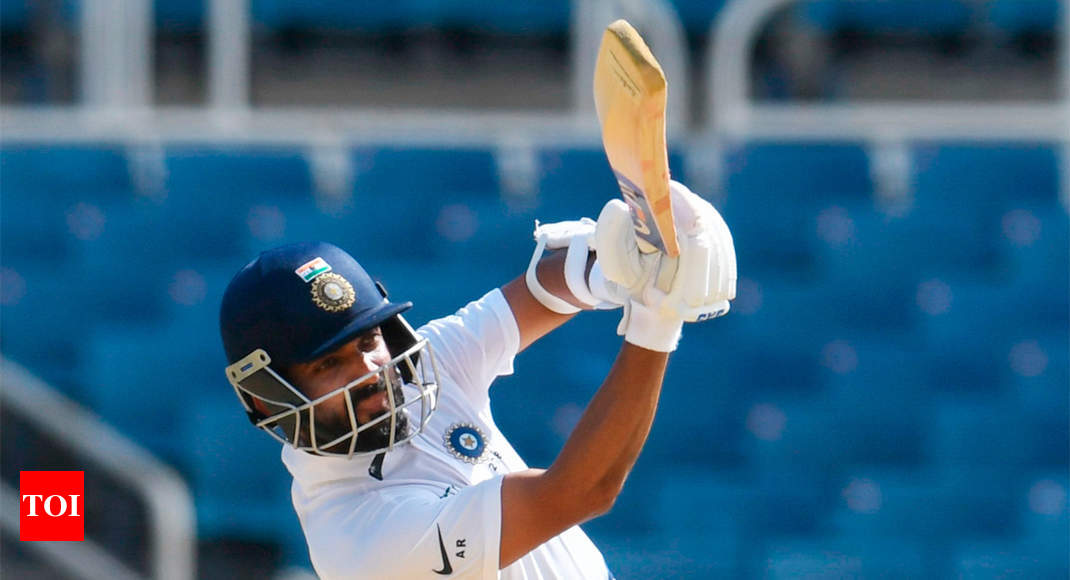 VISAKHAPATNAM: After dispelling all doubts with a splendid show in the West Indies, India vice-captain Ajinkya Rahane is all set to stay in the moment and continue with his good work.
"I am looking to staying in the moment, staying in the present as that's what I did in the West Indies. Many things were going on before that series but it was very important to stay in the moment and believe in myself and not put too much pressure on myself," Rahane said on Monday after the team's practice session.
"What has happened in the West Indies is the past and I have to start afresh here," he added.
On what kind of adjustments he made ahead of the last series, he said: "It was important for me to stay in my zone. When you score runs and do well it all looks easy from the outside. But for me it was important to stay in my zone and not look too much at other things. It was actually about how I managed to tackle difficult situations and take the team forward so that I can actually contribute to the team's success. In the West Indies that was the main aspect and I did it well."
#TeamIndia back in whites 💪💪 #INDvSA https://t.co/A8vGpNSaST

— BCCI (@BCCI) 1569830456000
The Mumbaikar stressed on communication between players. "When you bat with the tail it's important to trust your partner. That was what I was looking at always. But now with Vihari batting at no.6, it is easier but communication is very important. You assess the situation and what type of bowling etc and communicate it well to your partner and take it forward. In the West Indies we were able to do it and yes communication is the key."
On his good showing in the Windies, he said: "That's past again. That was very important for me for a personal point of view but every series has its share of new challenges. In India we face different challenges and when we go abroad its different. For me what is important is stay in form and take it forward."
Rahane said the team preparation for the series was good. "Our preparation is really good. We have had back to back sessions and we have one more day to go. As a batting unit, it's important to go out, be in that moment and communication is the key."
On the rivals, he said: "It is important to win the matches and the series. Because of the Test championship and the point system we cannot take any team for granted. It is important to respect your opponents. (Temba) Bavuma did well in the practice match and so did a couple of others. Hence, it's important to respect them and at the same time we have to play our game. As we know the conditions we need to focus on our strength."
On the team combination, he said: "Depending on the conditions and wicket, we will work out the combinations. Hanuma (Vihari) can actually bowl and that is good. In India we hardly see three fast bowlers in tandem. Hence, it will all depend on the conditions and the surface we are playing on."
TimesofIndia